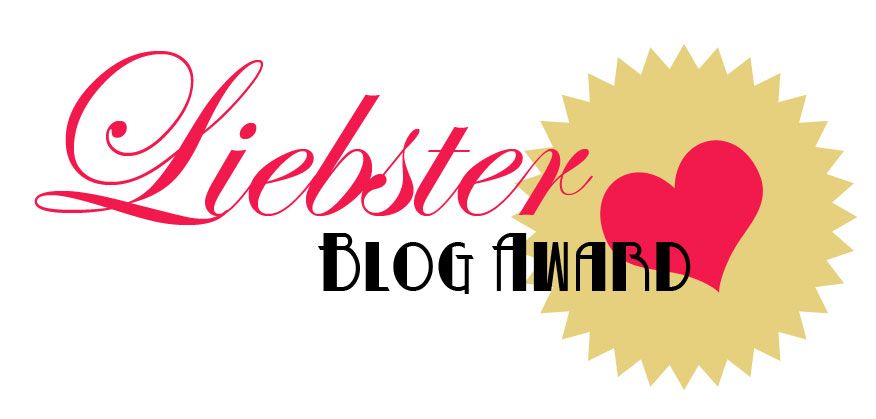 I've been nominated by Richelle from
Indigobean
(now
We Shall Fly
) for a Liebster Award! A Liebster Award, for those wondering like I was, if for bloggers who have less than 200 followers. It's basically a get-to-know ya session.
The Rules??
1. Each person must post 11 things about themselves.
2. Answer the questions that the tagger set for you, PLUS create 11 questions for the people that you tag.
3. Tag 11 other bloggers with less than 200 followers, go to their page and let them know you've tagged them.
4. No tag backs.
11 Facts:
1. I had short hair once in my life, and liked it. It was the first time I'd ever had to deal with bedhead.
2. I drink coffee daily.
3. I've been married for 6.5 years, and with Mike for 10.5 (since we were 15!).
4. I have 3 tattoos, and wanting more.
5. I'm pretty good at ping pong.
6. Just bought my first house in July, and loving it (sort of regretting that it's in MI right now b/c of the snow, haha!)
7. I've been "quiet" my whole life, and told so
all the time
. Although I'm the loudest I've ever been right now (why do people expect you to say things if you have nothing to say??).
8. I love watching The Antique Roadshow, and got to go to it once! Soooo exciting.
9. I'm a vegetarian, but I think you knew that.
10. Three cats and a giant pit bull mix are my babies.
11. I may have been born in the wrong decade.
Here are Richelle's questions for me...
1. What do you want to be when you 'grow up'?
I think I just discovered this last night, actually... :) Mike and I were watching some show on Netflix about best foods in America. It was a bakery edition, and now I really want to open up our own bakery. For realz. If not that, I definitely want to be my own boss in some way.
2. What makes you decide to follow a new blog that you come across?
I think of it like making friends; mostly if we have things in common, or it's a really unique blog.
3. Give us a short run down of a day in the life of you.
Ohhh, it all just depends if I'm working or not. I guess either way though, if I am or not, I have to get up and take care of my animals first and foremost. Then I make coffee <--- super important. Then I turn on the computer and eat my breakfast and drink said coffee while catching up on some lovely blogger buddies. Then if I work, I go and do my thing, and come home and have dinner with Mike while winding down from the day (all depending what time I work; it's different daily). Otherwise, the sky's the limit! I cherish days off, and try to cram everything into it when it comes along, including resting.
4. What is/are your passion(s)?
Love/ my marriage; recycling/ being earth-conscious, including vegetarian-ism (is that a word?).
5. In a sentence, how would your boyfriend/girlfriend/husband/wife/life partner describe you?
Oh, I'm so bad at these questions...um, loving, a humanitarian...lover and friend for life.
6. What's the weirdest thing you have ever done?
I think it's pretty weird that I went to Cosmetology school. I'm totally not into it, never was, and still am not. But, I went, and finished. I can do you hair and nails, people, lol!
7. What is one of your sayings?
I'm not really sure; I think sayings are something that are just a part of us and you don't really realize you say them until someone who's not a normal part of your life points them out... like a habit, you may not know you're doing it.
8. When in a store, what is the one thing that if you came across it you would have a hard time leaving without it?
Not Your Mother's

dry shampoo. It's not sold around here, so whenever I see a CVS on a trip, we have to stop and get some. (okay, it is sold here, in Wal-Mart, but I refuse to shop there..)
9. Favorite thing to do on a friday night?
Sit on my couch eating pizza and drinking wine with Mike, while watching t.v. Shoot, that's my favorite thing to do any night.
10. What is your day job?
mmmm, I'm reluctant to say where on the great interwebs, but it's a large chain hardware store.
11. What are you the most personally proud of doing/being/accomplishing/achieving?
My marriage. We have this quote hanging in our bedroom.
My 11 questions for 11 unsuspecting bloggers, muah-ha-ha-ha!! :)
1. Donut or bagel?
2. Are you a snooze button user, or are you up-and-at-em and the first buzz?
3. Who or what inspired you to start blogging?
4. Do you have siblings?
5. If your favorite band popped in for dinner, what would you serve them, or where would you take them to eat?
6. What's your dream job?
7. First or next tattoo wishes?
8. Are you an outdoorsy person, or tend to stay indoors?
9. Say you're going to the beach for the day, what's in your bag?
10. What's one of your pet peeves?
11. Favorite meal of the day?
...and now play tag!
1. Not Ladylike
2. Abhaya
3. Bissonnette Blog
4. My Fabulous Life!
5. The Girl Who Says Quack
6. With Each Passing Moment
7. The Market Darling
8. By The Lock
9.
Life Inside My Head
10.
Like A Small Fire
11.
Northern Exposure