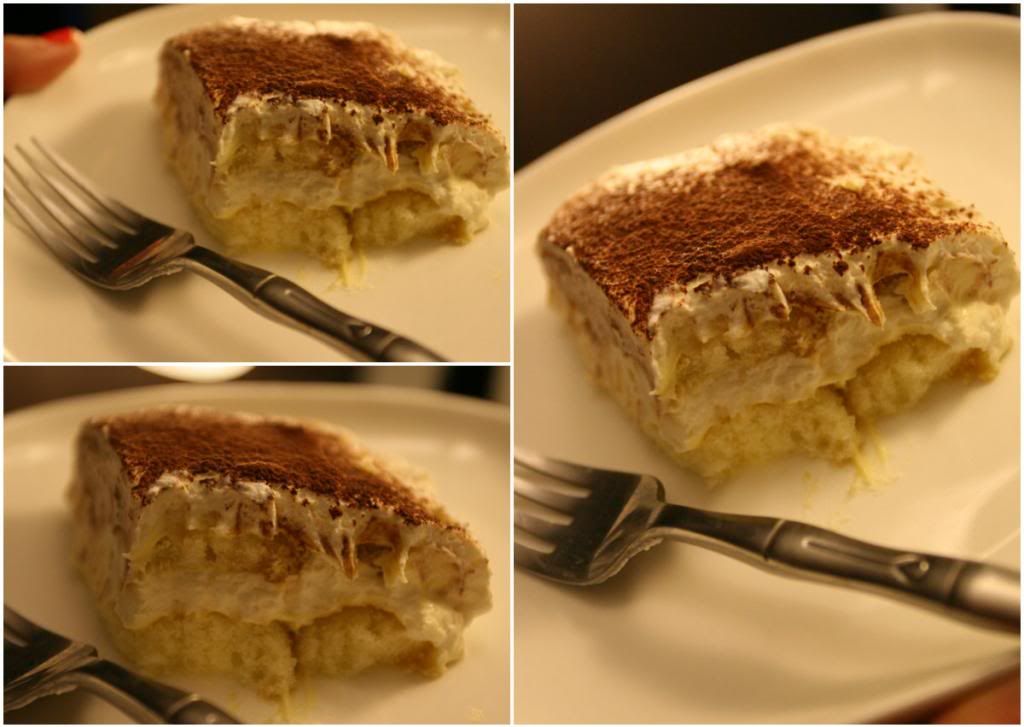 Since Valentines Day got cut a little less fancy than we had anticipated because of some illness in the house, Mike and I planned another night to sort of make up for what we had planned that didn't take place. Don't get me wrong, we still had a really nice vday, but we just didn't make the fancy dinner we had planned on. I was supposed to make a dessert, and Mike the main course. I thought I'd try my hand at making tiramisu for the first time!
Okay so we sort of over stuffed ourselves on other things, and still didn't have our fancy main dish or put on our spiffy clothes, but I guess that's not really what it's all about, huh? Might as well spread it out over a few nights, and enjoy it all the more! So dessert was last night, and we're planning on having the meal another night this week.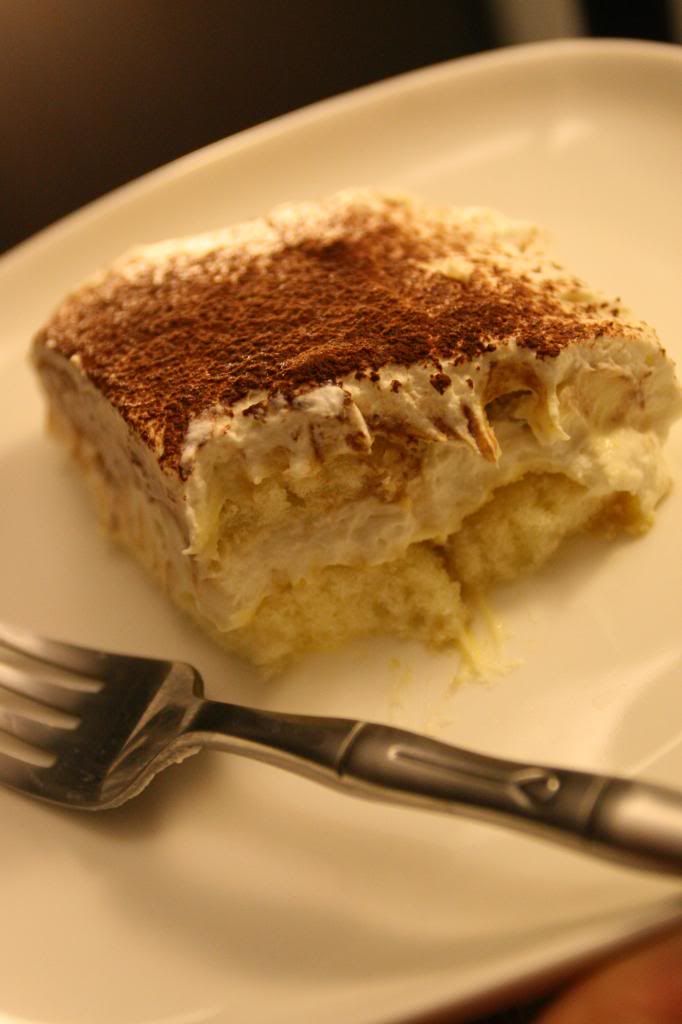 I ended up cutting this recipe in half since it said it was 12 servings and that
may
be a bit too much for just Mike and I. Well, I didn't have a pan small enough to make up for the cut, so the filling wasn't as thick as it should have been, but it was still really good! I feel like most of the flavor came from the cocoa powder on the top though, and there wasn't a whole lot of coffee flavor. Have any of you tried making tiramisu before? I've had it in restaurants before and it was amazing...
Here's the recipe I used from
allrecipes
: (I'll give you the full recipe, but it's really easy to adjust servings, and ingredients accordingly.)
Tiramisu II
6 egg yolks
3/4 cup white sugar
2/3 cup milk
1 1/4 cup heavy cream
1/2 teaspoon vanilla extract
1 pound mascarpone cheese
1/4 cup strong brewed coffee, room temperature
2 tablespoons rum
2 (3 ounce) packages ladyfinger cookies
1 tablespoon unsweetened cocoa
In a medium saucepan, whisk together egg yolks and sugar until well blended. Whisk in milk and cook over medium heat, stirring constantly, until mixture boils. Boil gently for 1 minute, remove from heat and allow to cool slightly. Cover tightly and chill in refrigerator 1 hour.

In a medium bowl, beat cream with vanilla until stiff peaks form. Whisk mascarpone into yolk mixture until smooth.

In a small bowl, combine coffee and rum. Split ladyfingers in half lengthwise and drizzle with coffee mixture.

Arrange half of soaked ladyfingers in bottom of a 7x11 inch dish. Spread half of mascarpone mixture over ladyfingers, then half of whipped cream over that. Repeat layers and sprinkle with cocoa. Cover and refrigerate 4 to 6 hours, until set.
Let me know if you try this out, or if you've tried another recipe in the past! It's such a great dessert! I know it's Monday, but I hope you have a great day!