Thank you, thank you, thank you to Dorien for saving my little blogging life, and helping out this computer illiterate girl. :) I'm now able to add my own photos again for free, at least for another half a year or so until I run out of space again, and have to come up with another plan; haha! Thanks chicka. Sorry for the little hiccup and bump in the road guys, thanks for hangin' with me!
So here's a little summary of my last and final craft show of the year! I've been in this one a few other times, and it's always really fun. It gets a really great turn out, and the other vendors are awesome; offering coffee runs, chatting, etc.
You may be able to glace a smidge of my Dad behind the crowds he draws while describing his creations. :) This was my view of his booth from where mine stood.
bat houses! I got one, and can't wait to put it up! Thanks, Dad!
I got to stand in front of some goofy mirrors all day; several side by side that progressively made you look smaller and squattier, until you looked like a bunny in the grass. :)
My wonderful parents running their booth.
Another self portrait in those silly mirrors; made me quite vain for the day, constantly straightening my dress and hair, haha.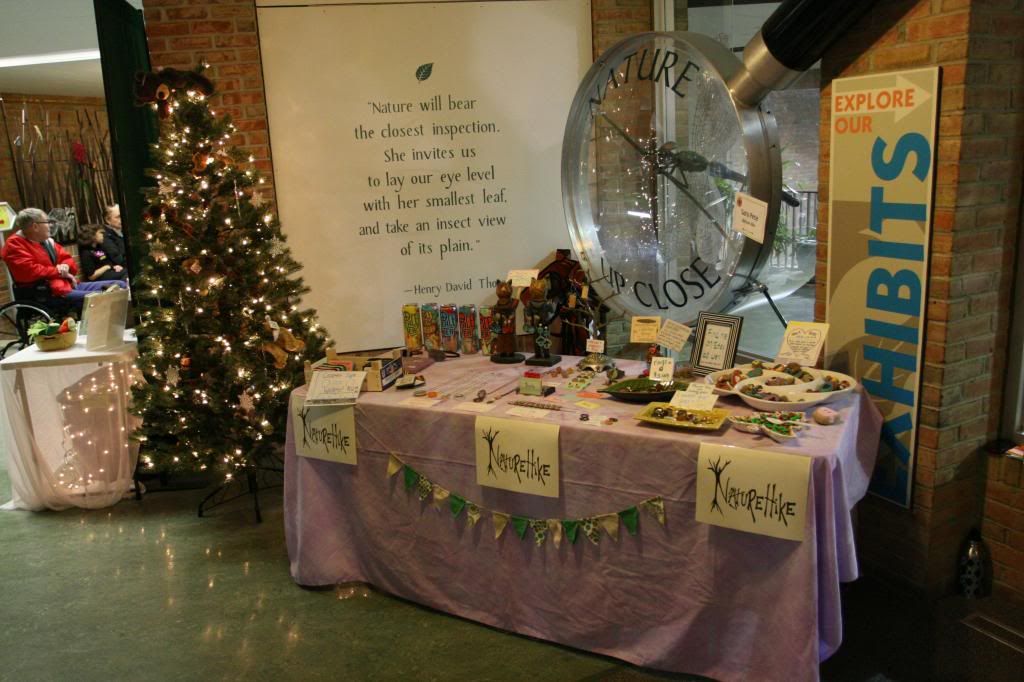 It was a fun day! I did pretty well, but I've decided I need to either start making some higher dollar items, or quit doing these shows....it's a bit tough making my money back for paying for the booth when my items don't cost that much. Anyhoo, it was a good time; I love the Nature Center, spending time with my family, seeing friends, selling the things I love to make, and I got some lunch from a local food truck that parked there for the day! Yuuummmm, veggie quesadilla!
Happy hump day! Glad I got over that hump so I can keep hanin' out with y'all! :)
Ohmygoodness, I almost forgot!!! HAPPY 12-12-12!!!!!! So epic, my friends, make it a good one. ;) I think I'll finally put my tree up and drink some hard eggnog, thinking about these repetitive numbers...what does it mean?